Introducing Ola S1 Air
at just ₹84,999
Make a statement on the streets
Explore S1 Air
Reserve for ₹999
There's an S1 for
everyone
S1 Air
NEW
Lighter faster and nimbler ride made possible
S1
Get the best features for an unbeatable price
S1 Pro
Pro performance, Pro design & Pro tech
New launch
Brand new add-ons
Customise your scooter with accessories and add-ons, and buy exclusive Ola merchandise at newly launched store
Visit store
A Hypercharge towards sustainability
More about Hypercharger
For you, everywhere
Ever-growing service network
Find an Ola service centre in 600+ major cities and towns all around India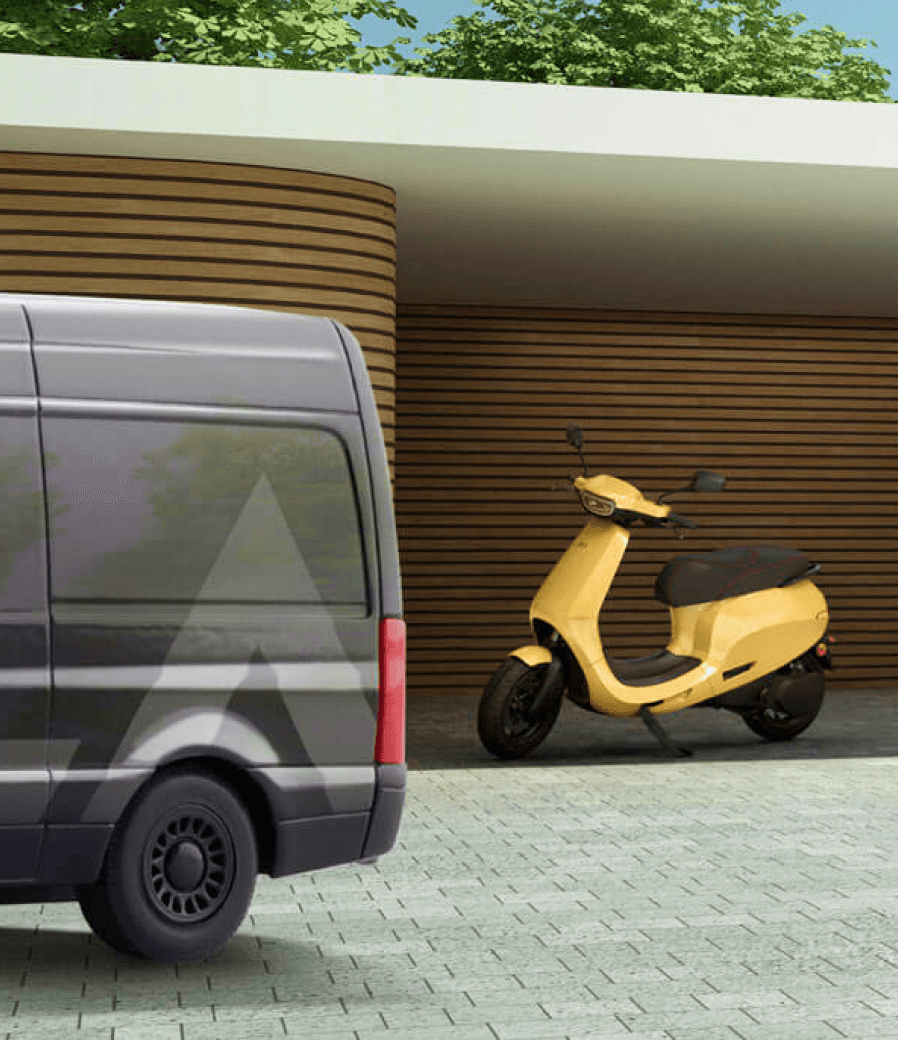 Service at your doorstep
We will pick up the scooter, fix it and deliver it back to you in no time
Predictive AI maintanence
Your Ola scooter provides preventive notifications and nudges on overall vehicle health
India's most ambitious car
More details coming soon. Stay tuned.
Our latest achievements
Namaste Nepal!
As part of our next big venture into taking the S1 Series into the global arena, we unveiled our scooters at the NADA EV expo in Nepal on the 22nd of September. With this endeavour, we're one step closer to making India the epicentre of the global EV revolution.
Times the Fun
MoveOS, the heart behind the S1 series is ready for another upgrade! Watch this space to see all our upcoming features!
Coming Soon: 200 Experience Centres
With over 200 Experience centres about to launch all around the country and 20 locations already live, maintaining your scooter has never been easier!
Tech for the world, made in India
Battery Innovation Centre
We're building a state of the art Battery Innovation Center (BIC) in Bangalore with a $500 Million investment, making it one of the world's largest most advanced cell R&D facility housing over 500 engineers.
Ola's Indigenous Li-Ion Battery
We're working towards making our own cell technology to scale faster and revolutionise the EV segment.
The largest 2W factory in the world, right here in India
Powered by over 3000 AI-driven robots, the Ola Futurefactory is the world's most advanced two wheeler manufacturing facility. With over 100 acres of forest cover and a carbon negative footprint, it is also the world's most sustainable two-wheeler factory
More about futurefactory
See how we are changing India
Stay up to date
Beware of fake revolutionaries!
We do not have any dealerships. If you are approached by any person or organisation(s) claiming to sell our revolutionary Ola Scooter through any website / phone call / poster / social media post / whatsapp forward, we urge you to inform the local police and / or report it to legal@olaelectric.com.
Learn more